Two Celtic Lands
Two Celtic Saints
One Transformative Journey
WEXFORD–PEMBROKESHIRE PILGRIM WAY
Two Celtic Lands – Two Celtic Saints – One Transformative Journey
Fáilte – Welcome – Croeso
The Wexford-Pembrokeshire Pilgrim Way follows in the footsteps of St Aidan's sixth century journey from Ferns in Ireland to meet his teacher and mentor, St David, in Wales. The impact of the meeting between these two famous Celtic saints was felt far and wide across Ireland, Wales and beyond, leading to the establishment of new churches and monasteries and a flourishing of Celtic culture in the Age of the Saints.
This newly re-discovered international route is characterised by wild Celtic landscapes and rich cultural heritage that continues to inspire musicians, poets and painters who live along its path to this day.
Pilgrimage on foot is a green and sustainable form of travel in these times of climate change and habitat loss.  The two saints understood the importance of the natural environment and through their mutual love of bees they even helped to save the bee population of Ireland. Through the story of the bees and the importance of the natural environment to this path, the Wexford-Pembrokeshire Pilgrimage Way is at the heart of perhaps the biggest challenge we face today.
It is a 260km (162 mile) journey with nearly 100km winding through County Wexford from Ferns to Rosslare, followed by a 100km crossing over the Irish Sea and a 60km walk on the beautiful Pembrokeshire National Park Coast Path to St Davids. Enjoy!
WHAT IS SO SPECIAL ABOUT THIS PILGRIMAGE
PLACES
When pilgrims walk this 260km route (160km on land plus 100km sea crossing), they are impressed by its variety.  
Journey from the mysterious St Mogue's Well in Ferns (Co Wexford, Ireland) to the splendour of St David's Cathedral in Wales and through all that lies in between, including the Oulart's Tulach a'tSolais memorial, Johnstown Castle and Our Lady's Island. 
Across the sea in Pembrokeshire, our pilgrimage follows the famous Pembrokeshire Coast Path, a haven for flora and fauna.  Walk past the iconic Strumble Head Lighthouse, linger at the coastal hamlet of Porthgain, surf at the famous Whitesand Beach en route to St Davids.
EXPERIENCES
The pilgrimage is experienced on different levels.  For many the most prominent feeling is reconnection with place, atmosphere, nature, companions, strangers, community and oneself.
The route is storied by the ancients, with sacred places that have been honoured by travellers for thousands of years. 
STAGES
The route is divided into 9 stages – 5 in Ireland and 4 in Wales as follows:
Stage 1 – Ferns to Oulart
Stage 2 – Oulart to Oilgate
Stage 3 – Oilgate to Piercetown
Stage 4 – Piercetown to Our Lady's Island
Stage 5 – Our Lady's Island to Rosslare (then ferry to Fishguard)
Stage 6 – Fishguard to Melyn Tregwynt
Stage 7 – Melyn Tregwynt to Abereiddy
Stage 8 – Abereiddy to Whitesands
Stage 9 – Whitesands to St Davids
We are delighted to present a full programme of events along the pilgrimage way.  
Our FAQ page addresses considerations such as 'Is the Route Ready for Pilgrims', 'Walking Safely' and more.
A PILGRIMAGE OF MUSIC AND STORYTELLING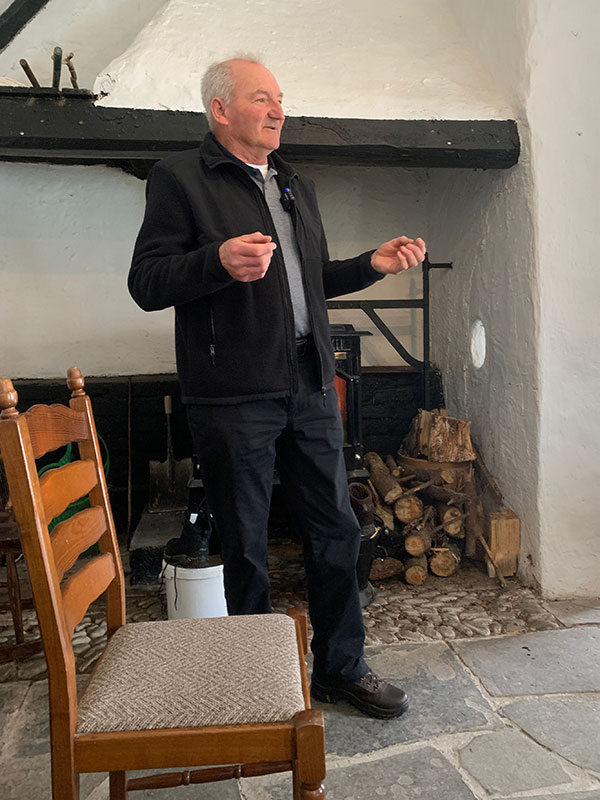 Four artists, four community pilgrims, a film crew and pilgrimage guides made the first modern pilgrimage along the full 160km walking route from Ferns to St Davids. 
Dubbed the 'Creative Camino', part of the wider Ancient Connections project, this cross-border journey further demonstrated the shared heritage of the two countries, both historically and between the band of pilgrims themselves. This was just one reason why the event was transformative for the pilgrims.

Reflections on the Pilgrimage
We captured some of the thoughts and feelings of the pilgrims with music composed, played and enjoyed along the route. 
Fairy Tune
Kate Powell, Musician
Thoughts on Pilgrimage
David Pepper, Pilgrimage Officer
Camino Song
Suzi MacGregor, Musician
"The four elements are a big part of the basis for healthy living in the Pagan ethos. So we might suggest that a pilgrimage is good for grounding (Earth), but also that the sun helps you get that fire in your belly going again (Fire), breathing in the air helps your worries drift away on the wind (Air) and crossing the water wets your appetite for life (Water)! "
Thanks to Lorraine from Gallivanting for showing us how the Wexford–Pembrokeshire Pilgrim Way is a recipe for healthy living!
Please note that the route in Ireland is still awaiting endorsement by Sport Ireland.  Please be aware of the following disclaimer:
This is a route in development and is currently going through the Sport Ireland accreditation process. Although some sections of the route are on existing accredited Wexford Walking Trails (Ferns Village, Oulart Hill, Three Rocks Trail and Carne to Rosslare), all other parts of Wexford-Pembrokeshire Pilgrim Way route have yet to be accredited. Accordingly, Wexford County Council and its route development partners do not accept responsibility and are not liable for any loss, damage or injury which may arise and all users and participants should take all necessary care to satisfy themselves of the suitability and safety of the route.
Sign up for our Newsletter
Be the first to know about guided events being offered along the route and all the latest developments as we head for a pilgrimage launch in 2023. 
Translations
We are working on improving our Welsh and Irish translations.  Thank you for your patience.